Post by Philip S on Dec 22, 2013 10:36:05 GMT -5
Hi all,
After chatting with Malika over
here
, I thought I would post up my concept for a Modular Floor Tile construction system. This is a little different from what Malika is doing, and probably a lot less practical as in the current form it requires an extruded plastic part. Also the focus is a little different as this is more for diorama and
permanent
gaming tables. 'Floor tiles' are constructed from frame and panel parts. This is a prototype and I am wondering what people think, the 'design with forum feedback' thing I bang on about. This all ties into my ideas about '
Ecoria
' (you can see the layout/ floor plan if you follow this link)
So here is a basic rendered image;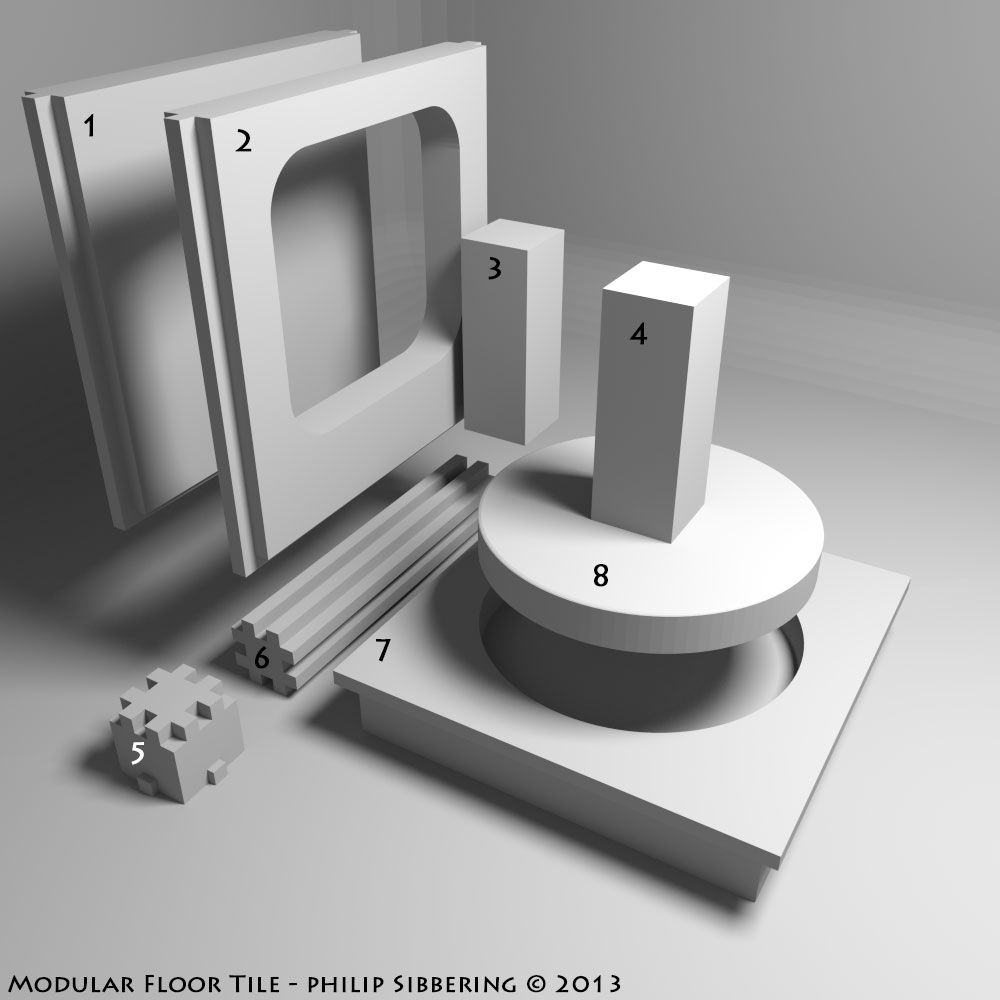 Panel - basic wall section - will be double sided

Panel - lab wall section - cut out for window (you don't often see windows in floor tiles?)

'Person cube' - 28mm - standing next to lab window

Another person cube standing on a base

Framing - panel connector hub (could be Trollcast)

Framing - straight panel connector (probably cannot be cast, and would have to be extruded)

Panel - floor part* with space for base insert

Custom 40mm round base**

* If the frame grid is glued to a gaming table the floor panel can free floating in the frame. Otherwise it can be glued to the frame to create more traditional 'floor tiles'.
** this 'base' is basically the middle section of the floor tile. It's an insert than can double up as a miniature's base.
The idea of having a base insert like this is that when it comes to battle reports, and a gamer is taking high quality photos of the action, they can remove the insert and replace it with a miniature which an inset attached as a base. This way the miniature's base is flush with the floor.
Construction
type one;
It's a bit like building a steel frame building! You mark out a grid on your
permanent
game table, and then glue all the panel connector hub cubes at the intersections, then insert the straight panel connectors in between the hubs to make squares. The straight connectors do not have to be glued, but they can be. Once you have a the grid built you can drop the floor panels into the square spaces of the frame where you want them, and then slot in the walls.
Doors:
I figure the doors can be dropped into the grooves made by the straight panel connectors - there are a lot of exposed grooves. This allows you to put doors anywhere. In the Ecoria design the door grooves are also where the panels connect and are anchored to. in 'reality' the building would be modular and very easy to remodel. All you need is the frame to be undamaged.
Construction type two;
Similar in principle except you glue the frame to the panels to build 'floor tile' sections. You can save some parts to connect the 'floor tiles' as some maps may have awkward areas. Generally the straight floor tiles are fully frames, while L sections, and T or + junctions are missing the the straight panel connector on the edge that connects to other floor tiles. Where there are two L, t, or + sections you'll need a space connector to join them together.
Why a frame?
It allows the gamer to make dense gaming tables as the walls are relatively thin and double sided, while keeping the core number of part to a minimum. Also as the model is made in a way similar to a steel building, it's possible to customise it, and expose areas in diorama that looks 'realistic'.
For permanent gaming tables there could be additional parts to fill in the voids of the map, internal machinery etc. as the floor parts can be removed and replaced with kits. Also, as walls and floors can be removed, damaged sections can be swapped in as the action unfolds.
I imagine whole labs being built, or many other types of buildings (usually architects do not waste space), along with space ship designs (the Ecoria hab units can be land based or put into a space ship as part of the life support).
Feedback
I suspect there would be a lot of problems with the design, and it will need a massive redesign, but that's why I'm posting it here, to find out what you think?
Time to rip the concept apart, so we can rebuild it better

Philip