Post by Borak on Aug 10, 2010 17:40:39 GMT -5
I'm thinking about making the deliniation between good races and evil races quite clear. I'd like peoples opinions about where to put races.
I'd also like your ideas about what the races should be like.
so far i have the following
GoodMen of the West
At the moment i'm thinking of a chivalric feudal system. Lot's of knights, squires that kind of thing. there technology is in a renaisance level. the older medieval knights are anachronistally paired with newly developed blackpowder weapons, pole arms, steampunk technomancy and devout but varied religious cults
they come from sprawling cosmopolitan cities built around ancient castles and keeps. many cities have sizeable expatriate populations of Elves, Dwarfs and other races.
The throne to the empire is currently empty and is ruled by a council of feudal barons and high ranking wizards and priests and guild officials. there are a number of guilds such as the inventors/engineers guild, various military guilds and chivalric orders.
Classes
Archer/gunner > Marksman > Scout > Ranger
Mage > Wizzard > Warlock > Sorcerer
Acolyte > Preacher > Priest > Prophet
Rogue > Bandit > Thief > Shadowfoot
Knight Concept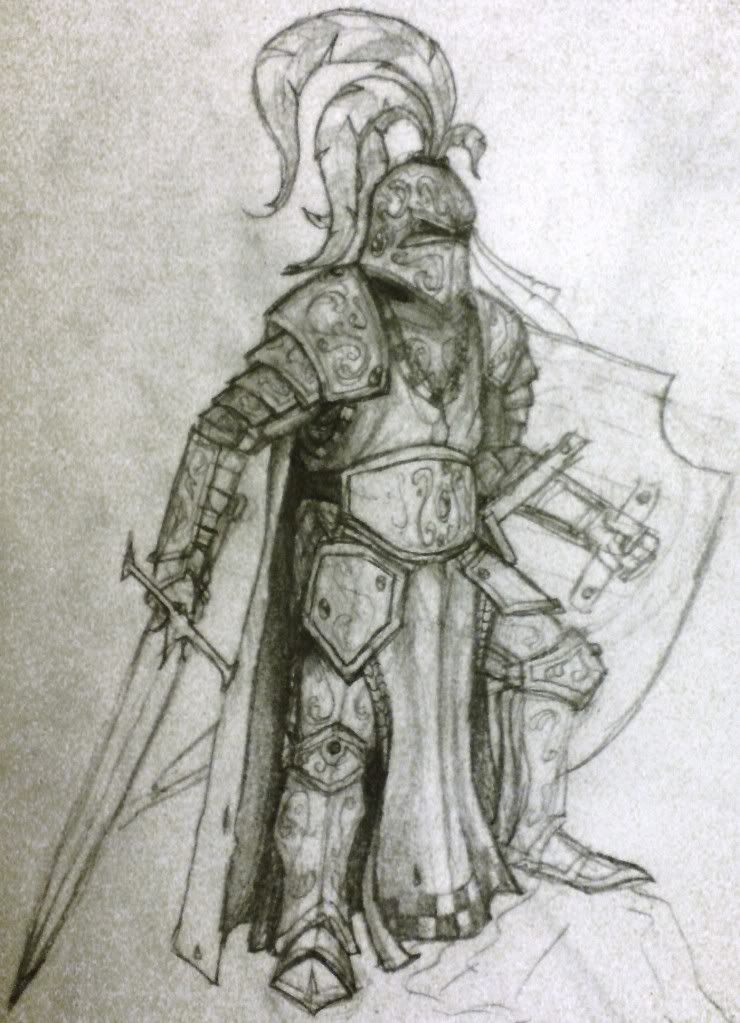 There are many Chivalric orders with their own fighting styles, goals, beleifs, entry requirements and uniforms/dress codes. Many fight in full plate armour, mail hauberk and carry a mace, axe, morning star or sword. due to the rigourous training regimen they are consumate fighters. brave and resolute. in his heavy armour a Knight is an unmoveable rock. they often cary shields displaying the intricate hereldry that details their order, their familly and their personal emblem. some orders are known to fight with great warhammers or double handed longswords. They are usually of noble birth and their equipment is often intricatley decorated with laquer, paint and inlays of precious metal and gems. other knights take a vow of poverty forgoing material wealth and vanity for religeous or philosophical reasons
Variations on the knight class include Palladins, Templars, Hermit Knight
They are asociated with Squire and Warrior henchman types
Fire Wizard Concept
Magic Diciplines
The men of the north use a very refined form of magic that's a strange mix of esoteric and scientific methods. Their magic is more about dominationg and shaping their world, opposed to the more passive nature magics of the men of the north
Pyromancy - Fire magic, probably the best offensive magic availiable to the men of the north. Pyromancers can hurl explosive fireballs, belch forth great gouts of fire. summon walls of flame or magma and fire elementals. they can ignite thier foes with a glance and heat their enemies armour to bake them alive. they can imbue themselves and thier followers with flaming attacks or auras. The dicipline also contains powerdul spells of illumination
Alchemy and Transmutation - Transmutative magics allow the wizard to conjuor items or alter the forms or materials of existing items. they have the power to change base metals into gold, improving the amount of treasure they can find. they can also use thier powers in combat, changing the steel of thier enemies weapons and armour to lead or a flight of arrows into a flock of birds. they can at high levels change the shape of themselves and thier foes
Technomancy - Technomancy is the art of building and manipulating machinery with magic. it allows them to activate machines remotely. magically detect and undo locks and traps and build devices that would otherwise be beyond the technical limitations of existiong technology
Astromancy - Is the study of the heavens and magic derived there from. it grants skills or prophecy and precognition as well as some weather related effects such as the ability to hurl lightning
Physiomancy - Phisiomancy is magic pertaing to the opperation of the body. it is predominately a lore of healing magic but it does also impart the ability to boost or drain speed strength, stamina and resolve
Telepathy - The magic arts of mental communication, dream walking, astral projection and more malign skills such as mental domination and mind control
Peity
Men of the North
(Barbarians)
Bright Elves
Dwarfs
Sylvan Elves
a race of sentient big cats or lion men
eagle men/avians
Ape men
Naga (snake people)
Gnomes
Faeries

Neutral

Lizardmen & Toadlings
Centaurs
Elementals
Ogres
Men of the South (pirates and mercenaries)
Orcs
Goblins

Trolls
There are myriad varieties of trolls in all manner of sizes, shapes colours and ecological niches. some breeds are quite inteligent, skilled craftsmen or potent magic users. other are little more than feral beasts. they have a tendency to live in small family units of 2-3 males, a matriach and her young. obviously some trolls (like the dreaded Dark Blood Trolls and Black Trolls) are the result of the interference of vile magics. due to thier varied physiques, inteligence levels and social behaviours it is pactically impossible to sum trolls up in a single statement save to say that they are invariable dangerous beasts
Forge Troll Concept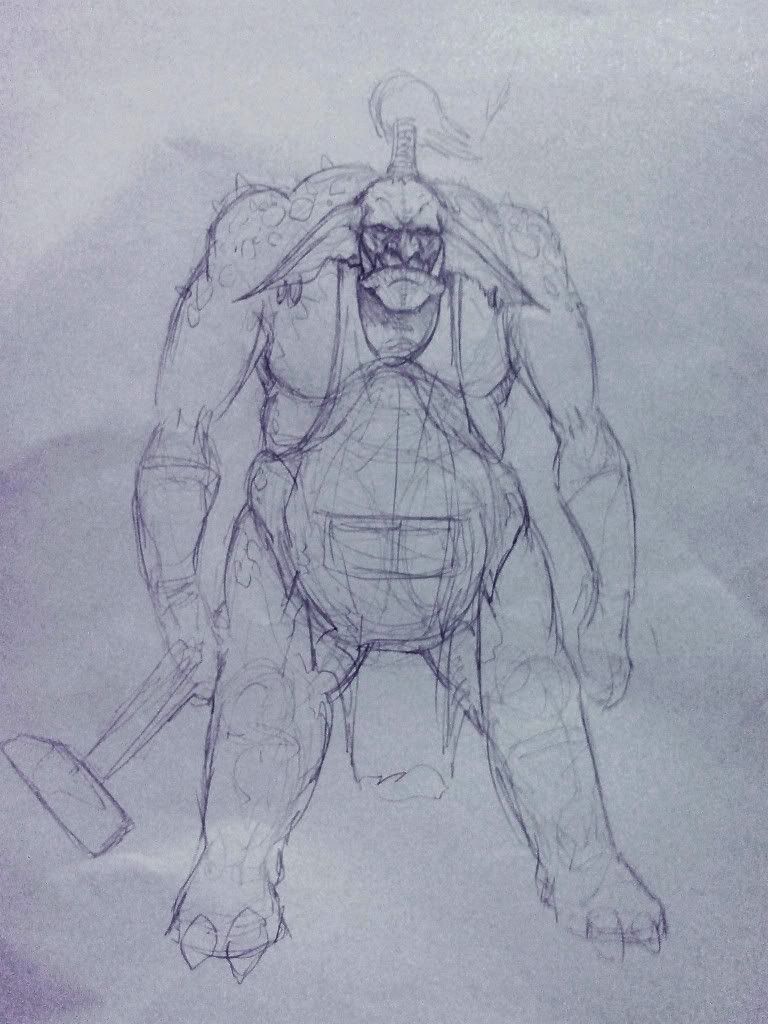 Cyclops
Giants
Beastmen
Swinemen
Kobalds (rat men and dog men)
Dragons
Hippogriff
Gorgon




Minotaurs
Griffin
Harpies
Cthilids
Fishmen

Evil


Men of the East (Chaos Warriors, Hell Knights)
Zombies
Skeletons

Wights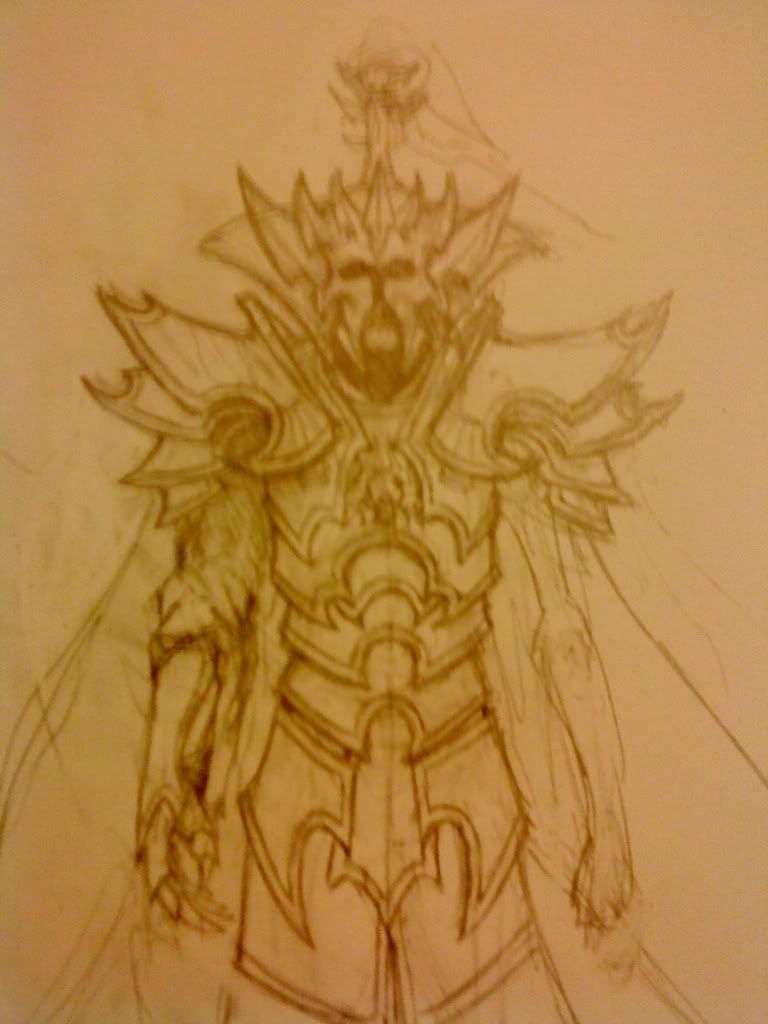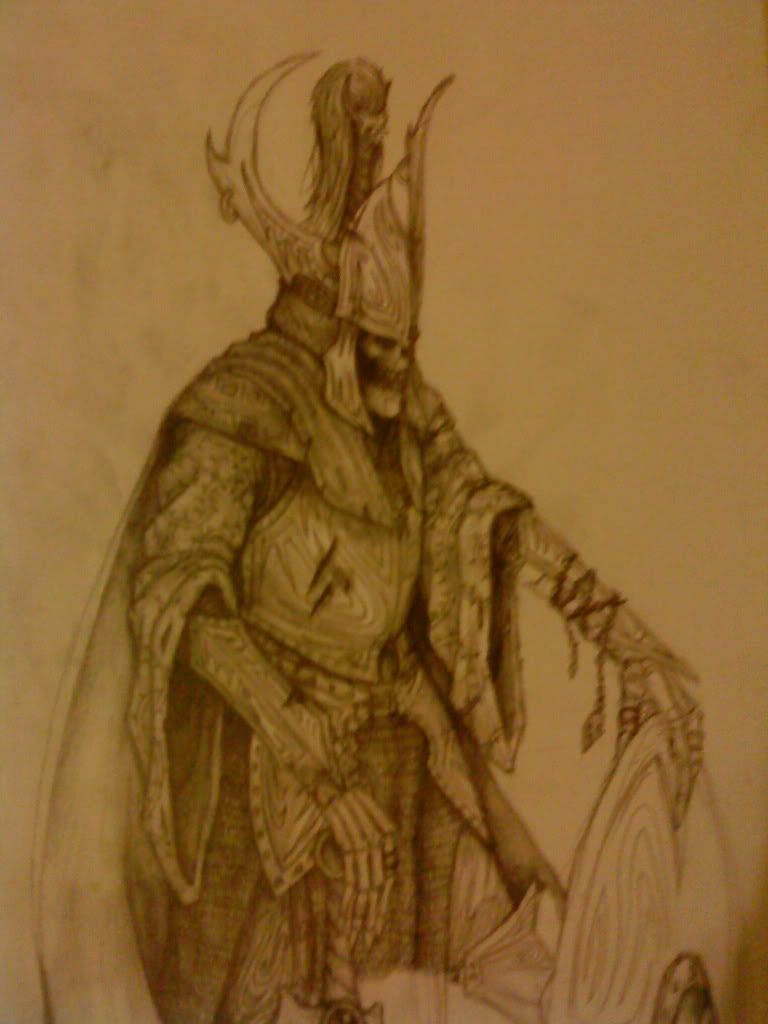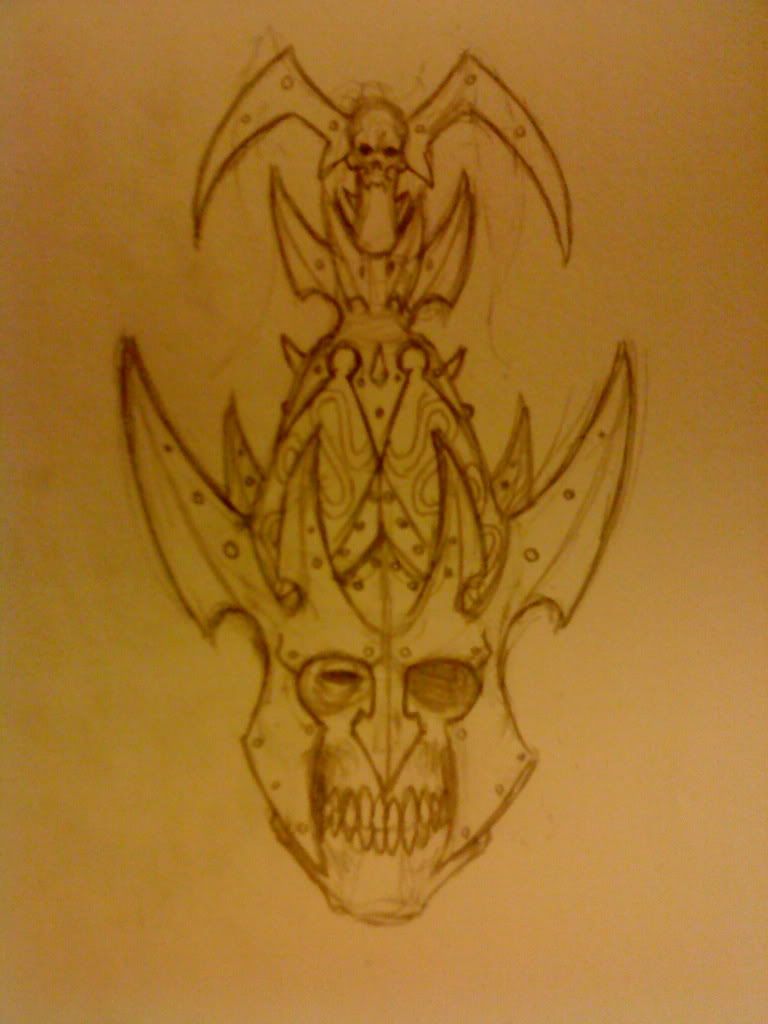 Ghosts
Wraiths
Banshees
Mummies
Ghouls (cult of the revenant)
Flesh Puppets
Bone Puppets
Zoanthropes
Vampires
Demoliches
Black Elves
Black Dwarfs
Sprites
Redcaps
Sarcomancers and flesh crafters
flesh golems
mewling horrors
Necromancers and Liches
Diabolists and Demonologists
Demons
Devils
Medusae
Hell Hounds
Cerberus

Manticore
Manticores are large and dangerous Cthonic monsters related to the Lamasu and Sphinx. they are large leonine predators with strangly humanoid faces. they have vast bat like wings and a longbarbed bevenomed tails that lash like whips.
Varietis and mutations of the manticore have been sighted including wingless varieties, variets with tails covered in porcupine like spines that hiss with poison that can be launched with a flick of the tail to impale prey. There are even reports of a variety with a second head like a giant spitting cobra on the end of it's tail.
Manticores are invariavly ill tempered and constantly hungry. they are willfull creatures and will obey only the strongest most diserving masters (often not for long)
They are capable of speech and limited magic but are generally insane from constant hunger (a defect from thier magical creation) and impossible to reason with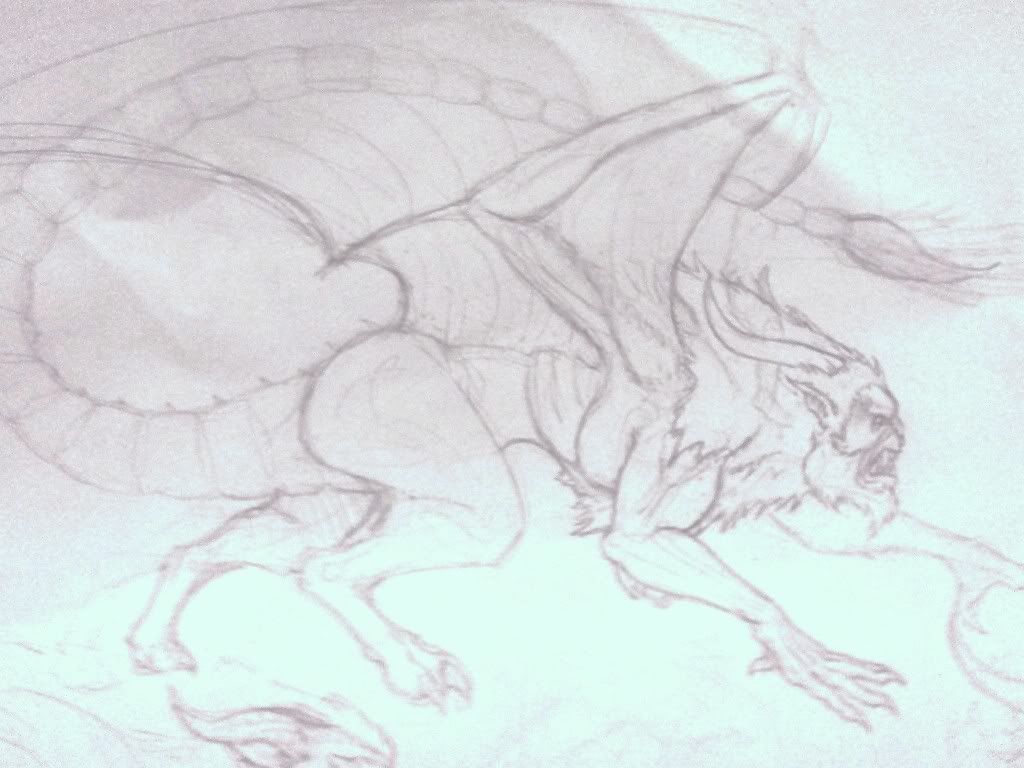 Lamasu
Sphynx
Jabberwock
Hydra
Chimera
Lost Souls
Pit Fiends
Infernal Barons
Demon Lords
Elder Demons
Dark Gods

I'll keep this first post as a summary of anything that's discussed
Not everything on this list is truly a race. some entries are better suited to being character classes or henchmen/minion types
I'll update each entry once i've discussed it. each race can only choose a certain range of character classes (dwarfs aren't good at magic for example) I'll try to post a description and class list for each race including concept drawings when i can.