Post by beork on Jun 3, 2009 6:30:59 GMT -5
I've been asked to build a Captain/Commander for
The Black Hands
Chapter of Mister X-Slash-X on the B&C.
Due to my somewhat busy life at this point I haven't had too much time yet, but I've done a bit of work and I just wanted to start showing it.
Sadly I do not have my good camera at this point so the photos are a bit bad.
I wanted to take step by step photos of everything, but I couldn't spare the time taking pictures every cut.
The Captain will be modeled striding, with a rather large sword on his shoulder and his left arm pointing forward.
He will be slightly larger than normal marines (aided by the upright stance) and should look as if he is advancing while directing his marines to the enemy.
As a requested option, the right arm will be replaceable with a power fist/claw with attached stormbolter.
He should convey both a knightly feel and a techy feel.
Some bionics will be included but not as abundant or visible as with my
Ironbound
.
I started with some legs; I made two versions at this point, both nothing more than reposed yet.
One with Terminator greaves:
One with normal mk6 greaves:
The right greave will receive a piece of spaced armour and some not to obvious bionics.
I also started on the torso, shaving some details from standard torsos and making one slightly enlarged one with a mk8 feel.
The end result should look somewhat like this: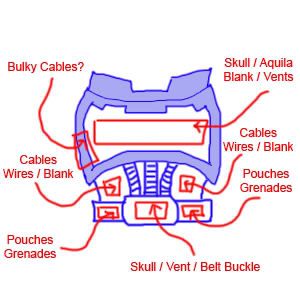 I immidiatly ran into problems here as a mk8 torso is not made for wearing helmets. I put the rim somewhat forward but this looks awkward. I'll be adding bulk to the front to cover this up.
The Captain will be wielding a rather large sword, which will be part chainblade and part powerblade. and based on the following picture:

The black part will be chainblade, the rest powerblade. I made a small start, it's not much but you have to start somewhere.
To do:
- Finish variant torsos
- Start on bionics of the right leg
- Make template for greave armour plate
- Finish variant swords
- Start work on the helmet
- Start work on arms
- Think about a nice techy backpack
Beork